Violently, Pro-trump mob storms US capitol (Photos & Video)
Pro-Trump mob storms US Capitol building
Supporters of US President Donald Trump swarm Capitol building as Congress met to confirm Joe Biden's election victory.
Angry supporters of President Donald Trump stormed the US Capitol on Wednesday in a chaotic protest aimed at thwarting a peaceful transfer of power, forcing lawmakers to be rushed from the building and interrupting challenges to Joe Biden's Electoral College victory.
Trump issued a restrained call for peace well after the melee was underway but did not urge supporters to disperse. Earlier he had encouraged them to march to Capitol Hill.
Wednesday's ordinarily mundane procedure of Congress certifying a new president was always going to be extraordinary, with Republican supporters of Trump vowing to protest results of an election that they have baselessly insisted was reversed by fraud. But even the unusual deliberations, which included the Republican vice president and Senate majority leader defying Trump's demands, were quickly overtaken.
In a raucous, out-of-control scene, protesters fought past police and breached the building, shouting and waving Trump and American flags as they marched through the halls.
One person was reported shot at the Capitol, according to a person familiar with the situation. That person's condition was unknown.
Earlier on Wednesday, crowds gathered at the so-called "Save America March" wore Trump-approved red baseball caps and cheered as the outgoing Republican president repeated the groundless conspiracy theories that have consumed his final days in office.
"You don't concede when there's theft involved," Trump said. "Our country has had enough and we will not take it any more."
He aired his familiar grievances with the news media and Hillary Clinton, his former Democratic rival from the 2016 election, and delighted the crowd by calling Democratic victories the product of what he called "explosions of bulls***."
"Bulls***! Bulls***! Bulls***!" the crowd chanted in response.
Weeks have passed since the states completed certifying that Biden, a Democrat, won the election by 306 Electoral College votes to Trump's 232, and Trump's extraordinary challenges to Biden's victory have floundered in courts across the country.
Congress was due to confirm Biden's victory on Wednesday. Many of Trump's fellow Republicans have promised a stonewalling effort that was almost certain to fail.
Advertisement
Advertisement
Article above by ALJAZEERA
MORE PICTURES
Pro-Trump rioters breach the US Capitol on historic day in Congress

In a stunning display of insurrection, supporters of President Donald Trump breached the US Capitol on Wednesday while Congress was meeting to certify the Electoral College's votes for president and vice president.
The Capitol was put on lockdown and the certification vote was paused after the rioters stormed the building. It took several hours for the Capitol to be secured. Vice President Mike Pence was moved to a safe location, as was congressional leadership.
This was the first time the US Capitol had been breached since the British attacked and burned the building in August of 1814, during the War of 1812, according to Samuel Holliday, director of scholarship and operations with the US Capitol Historical Society. Congress returned to the Capitol in the evening to resume the certification process.
Congress' counting of electoral votes is typically little more than an afterthought. But Wednesday's joint session was expected to be a contentious affair. Some Republicans are objecting to the count and delaying the certification of President-elect Joe Biden's win.
Their push is destined to fail. Democrats and a significant number of Republicans are planning to vote down all of the objections, saying it is a hopeless attempt to reverse the election outcome. Senate Majority Leader Mitch McConnell has already delivered a forceful rebuke of Trump's baseless claims of widespread election fraud, warning his fellow Republicans that failing to certify the election results could "damage our republic forever."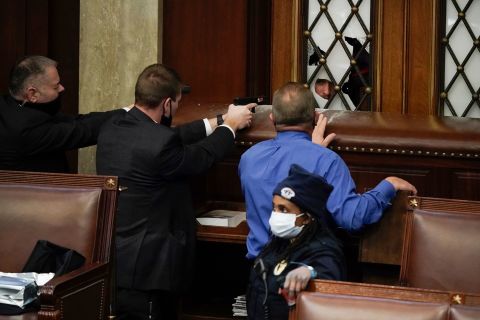 Law enforcement officers point their guns at a door that was vandalized in the House chamber after the Capitol was breached.J. Scott Applewhite/AP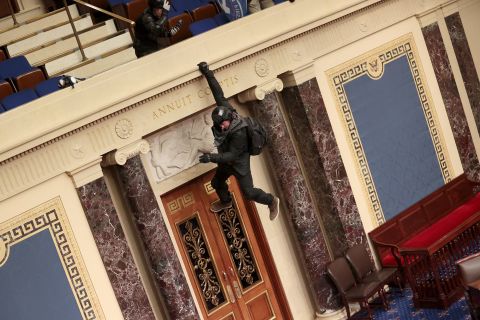 A rioter hangs from a balcony in the Senate chamber.Win McNamee/Getty Images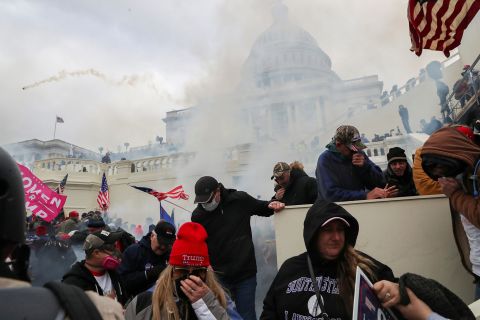 Trump supporters cover their faces after tear gas was fired in front of the Capitol.Leah Millis/Reuters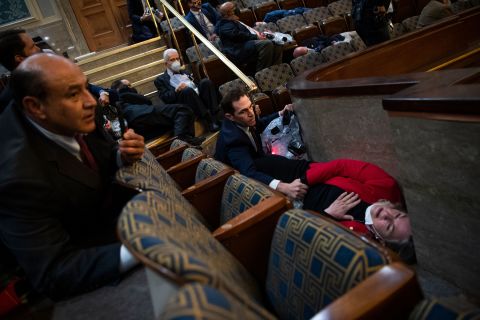 US Rep. Jason Crow, a Democrat from Colorado, comforts US Rep. Susan Wild, a Democrat from Pennsylvania, while taking cover in the House chamber on Wednesday.Tom Williams/CQ-Roll Call, Inc via Getty Images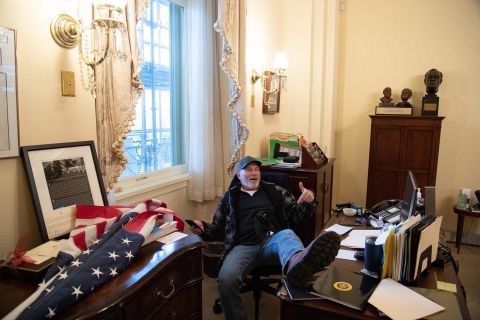 A Trump supporter sits inside the office of House Speaker Nancy Pelosi after breaching the Capitol.Saul Loeb/AFP/Getty Images
Papers and other materials litter the House chamber after it was evacuated.Andrew Harnik/AP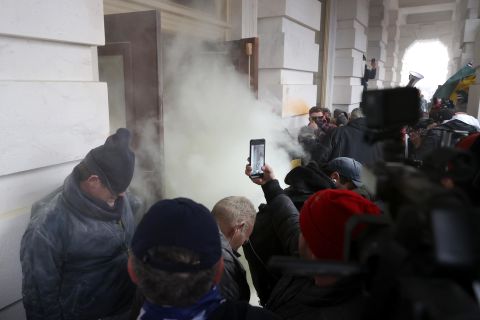 Tear gas is deployed as rioters gather outside the Capitol.Tasos Katopodis/Getty Images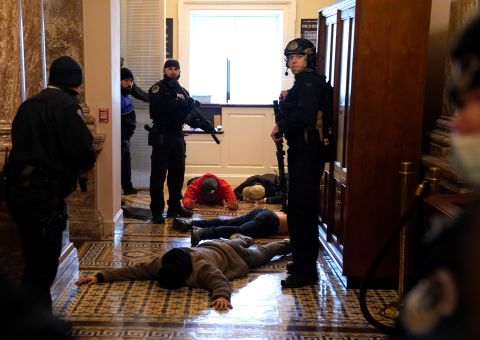 Capitol Police detain rioters outside of the House chamber.Drew Angerer/Getty Images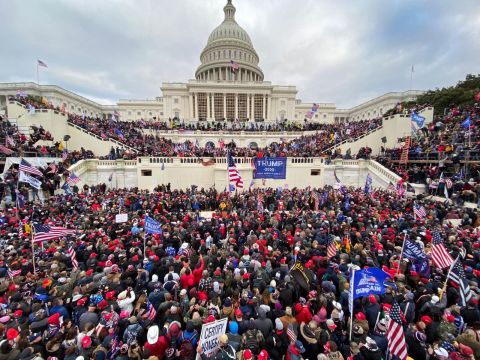 Trump supporters gather outside the Capitol.Tayfun Coskun/Anadolu Agency via Getty Images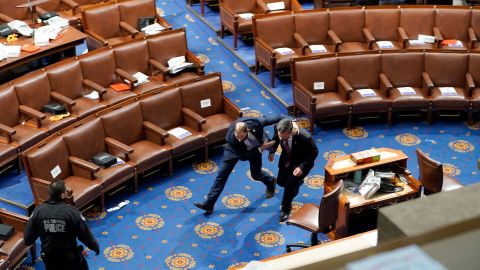 Members of Congress run for cover as rioters try to enter the House chamber.Drew Angerer/Getty Images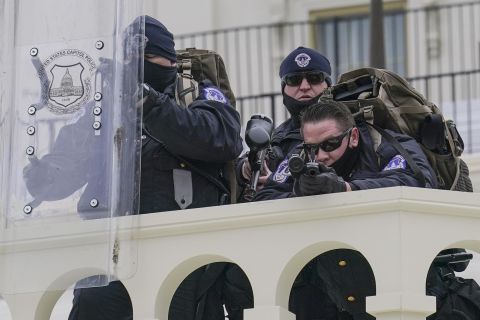 Police keep a watch on demonstrators who tried to break through a police barrier outside the Capitol on Wednesday.John Minchillo/AP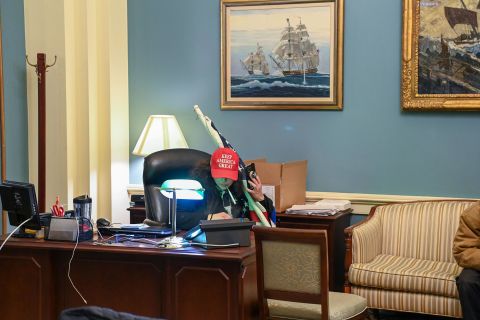 A Trump supporter sits at a desk after invading the Capitol.Saul Loeb/AFP/Getty Images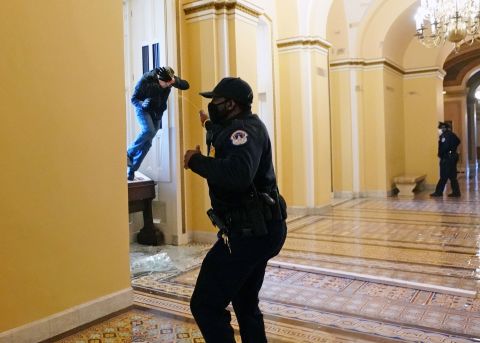 A Capitol Police officer sprays a person who was trying to enter the Capitol.Kevin Dietsch/UPI/Bloomberg/Getty Images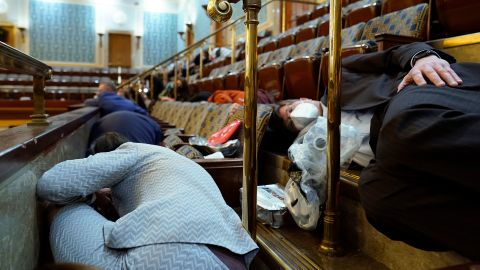 People take shelter in the House chamber as rioters try to break in. House members were given gas masks that were under the seats, according to a pool reporter on the House floor.Andrew Harnik/AP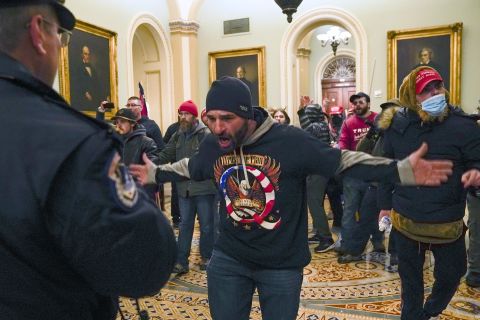 Trump supporters gesture to Capitol Police in the hallway outside of the Senate chamber.Manuel Balce Ceneta/AP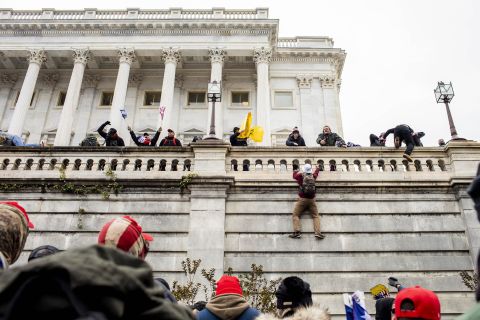 Trump supporters climb outside the Capitol.Jason Andrew/The New York Times/Redux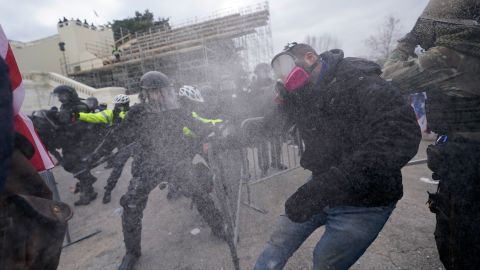 Trump supporters try to break through a police barrier outside the Capitol. Shortly after 1 p.m., some pushed through barriers set up along the perimeter of the Capitol, where they tussled with officers in full riot gear.Julio Cortez/AP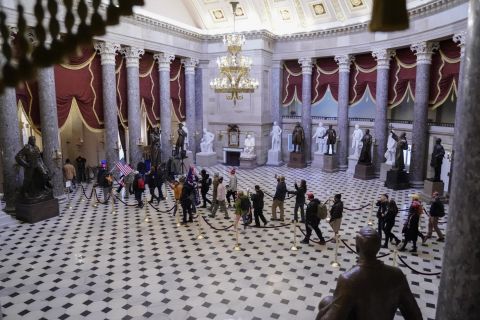 Trump supporters walk through the Capitol's Statuary Hall.Erin Scott/Bloomberg/Getty Images
Trump supporters stand on a Capitol Police armored vehicle as others take over the steps of the Capitol.Bill Clark/CQ-Roll Call, Inc via Getty Images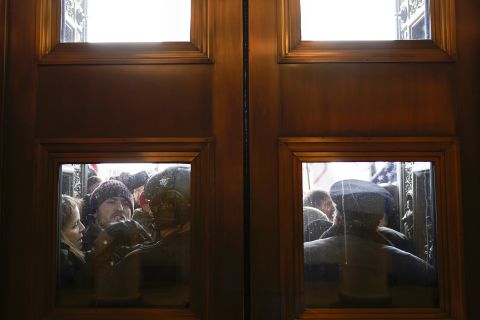 Capitol Police tries to hold back people outside the east doors to the House side of the Capitol.Andrew Harnik/AP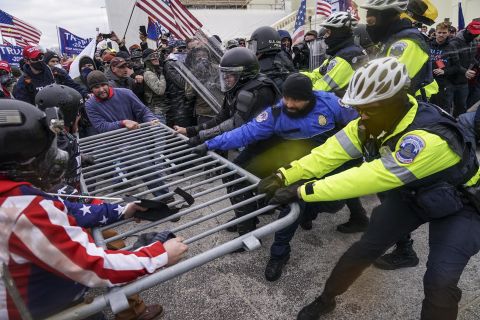 Trump supporters try to break through a police barrier.John Minchillo/AP
Vice President Mike Pence and House Speaker Nancy Pelosi officiate the joint session of Congress on Wednesday. Congress was meeting to count and certify the Electoral College votes before the Capitol was breached.J. Scott Applewhite/Pool/AFP/Getty Images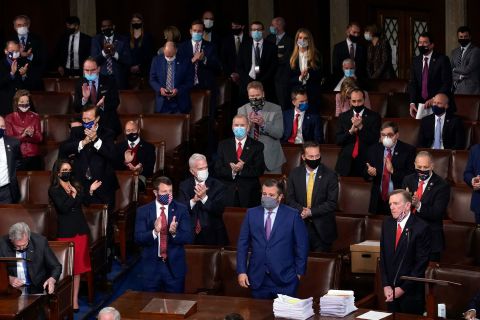 Republicans applaud after US Rep. Paul Gosar, lower right, objected to certifying the Electoral College votes from Arizona.Andrew Harnik/AP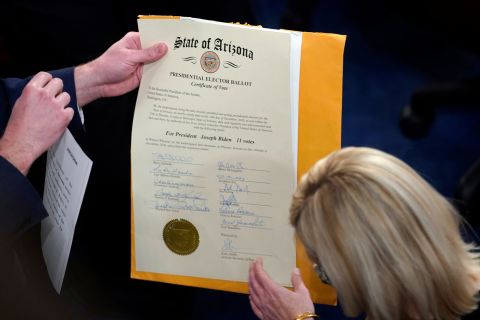 The certification of Arizona's Electoral College votes is unsealed during Wednesday's joint session of Congress.Andrew Harnik/AP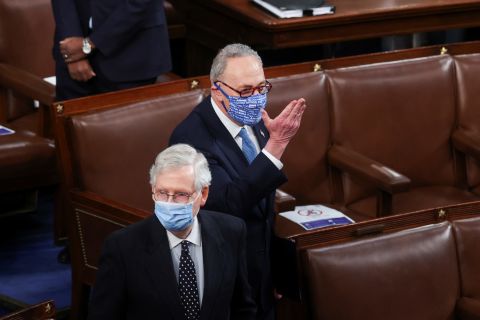 Senate Minority Leader Chuck Schumer blows a kiss to House Speaker Nancy Pelosi as he and Senate Majority Leader Mitch McConnell arrive for Wednesday's session.Jonathan Ernst/Reuters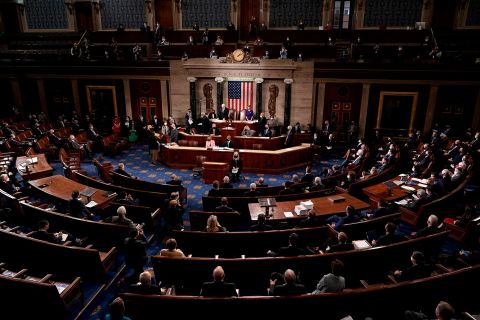 Congress begins its joint session on Wednesday.J. Scott Applewhite/Pool/AFP/Getty Images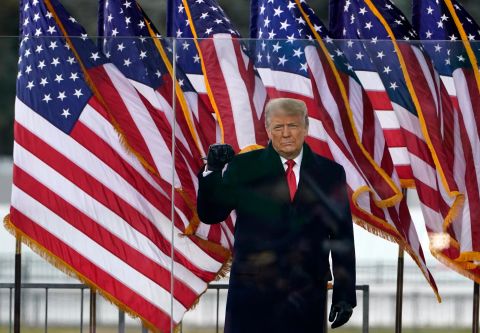 Trump arrives to speak to his supporters on Wednesday. His speech included calls for his vice president to step outside his constitutional bounds and overturn the results of the election. "Hope Mike is going to do the right thing," Trump said at the rally. "If Mike Pence does the right thing, we win the election."Jacquelyn Martin/AP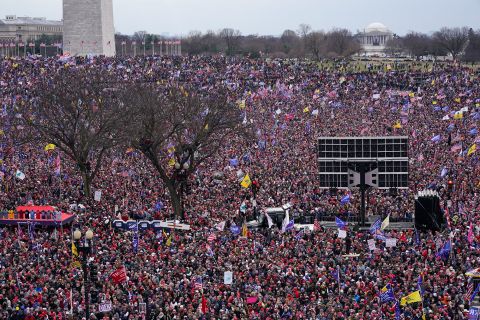 People rally near the White House in support of Trump.Jacquelyn Martin/AP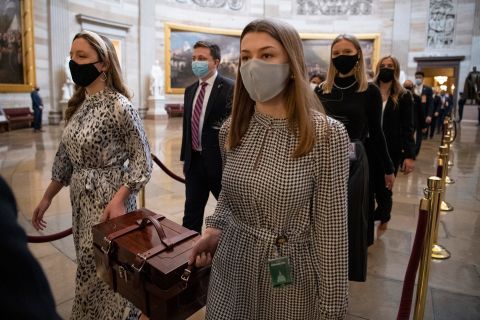 Chamber assistants carry Electoral College ballot boxes at the Capitol.Caroline Brehman/CQ-Roll Call/Getty Images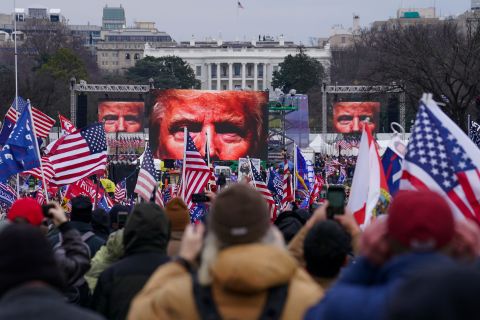 Trump supporters participate in a rally near the White House on Wednesday.John Minchillo/AP
Article above by CNN
FULL VIDEO
Video above by The Telegraph